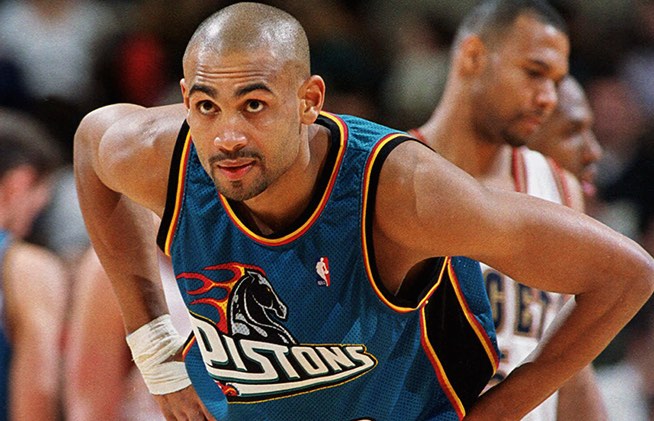 La promotion du Hall of Fame de cette année a de la gueule avec Tina Thompson, Ray Allen, Jason Kidd, Steve Nash, Dino Radja ou encore Rod Thorn. Parmi cette classe, l'un d'entre eux se distingue par sa carrière pleine d'aspérités : Grant Hill. Si les plus jeunes se souviennent d'un vétéran utile mais évidemment déclinant à Phoenix ou les Clippers, ou même du présentateur pour NBA TV, les plus anciens savent à quel point l'ailier a marqué toute une génération, que ce soit sur le terrain avec sa polyvalence hors du commun, son jeu spectaculaire et élégant ou  en dehors, avec sa gueule de gendre idéal remarquée par Fila et Sprite qui l'illustrèrent dans des publicités mémorables. 
Isiah Thomas : « C'était le premier joueur de 2m04 avec un crossover aussi assassin »
Comme Isiah Thomas l'a dit auprès du site de la NBA, « Grant Hill était le premier joueur de 2m04 avec un crossover aussi assassin ». Avec Penny Hardaway, un autre immense talent abandonné par son physique, il était aussi l'un des rares joueurs capables de tenir tête à Michael Jordan. Lors de sa dernière année à Detroit, il compilait ni plus ni moins que 26 points à 49% aux tirs, 6.5 rebonds et 5 passes par rencontre. Grant Hill a été le « real deal » avant d'être flingué par les blessures et de se réinventer non sans difficulté en « role player ».
À l'aube de son intronisation dans l'éternité du basket, Grant Hill a toujours bien du mal à mesurer le parcours accompli, cinq ans après son ultime saison.
« Quand vous êtes dedans, spécialement pour moi, ces neuf dernières années après ma blessure ont semblé être une longue carrière. Surtout quand vous êtes à la fin de la trentaine, vous vous dites : 'Waouh, je fais ça depuis si longtemps.' Mais avec du recul, le jour de votre retraite et maintenant cinq ans après, vous revenez dessus et ça semble être passé vraiment vite », raconte-t-il à NBA.com. « En sortant de l'université, je me préparais juste à intégrer la ligue et je ne l'ai pas l'impression que la fac était il y a 20 ans. Comment le temps est-il si vite passé ? Vous vous réveillez, vous ne pouvez plus courir, vous avez la quarantaine et vous vous dites : 'Que s'est-il passé ? »
« Si je suis honnête avec moi, cela m'ennuie vraiment d'avoir été blessé. Vraiment. »
Et pour cause, Grant Hill a connu trois carrières en une : un premier volet impressionnant de facilité, un deuxième pourri par ses chevilles et un ultime chapitre fait de classe et d'humilité dans un rôle de l'ombre. Ses meilleures années, Grant Hill les a connues il y a maintenant plus de quinze ans, de quoi mettre de côté la perspective d'éventuels honneurs.
« Quand j'étais en plein dedans, en luttant contre les blessures à Orlando puis en allant à Phoenix, vous n'avez pas le temps de ressasser ce qu'il s'est produit ou non dans le passé. Vous vous concentrez uniquement sur ce que vous devez faire pour retrouver la santé, retrouver de la valeur, ce que vous devez faire pour rester compétitif à la fin de votre trentaine ou au début de votre quarantaine », détaille le double champion universitaire. « En fait, ce n'est qu'à ma retraite, au moment où les gens évoquent votre place dans le basket ou le Hall of Fame, que je me suis posé et suis revenu sur ma vie de basketteur. Je m'étais convaincu, peut-être pour me protéger, que le Hall of Fame n'arriverait jamais pour moi, que je n'avais pas besoin de ça car je sais ce que j'ai dû dépasser pour revenir et jouer mes dernières années. C'était la chose la plus importante à mes yeux, celle qui validait mon aventure. Mais quand j'ai eu l'appel du Hall of Fame, j'ai compris que j'avais peut-être occulté certaines réussites. »
Même si Grant Hill a conclu sa carrière dans la dignité, il ne saura jamais ce qu'il aurait pu accomplir sans ce physique défaillant. D'ailleurs, il admet que les blessures ont pris tant de place dans sa vie qu'il en a oublié le joueur qu'il a un temps représenté. À 45 ans, il apprécie plus que jamais que le Hall of Fame ravive de meilleurs souvenirs.
« En effet, cela m'ennuie d'avoir été blessé, d'avoir été sur cette trajectoire tôt à Detroit, que tout s'assemblait mais n'a jamais été achevé. Je n'ai pas eu la chance de voir ce que cela aurait pu donner. Si je suis honnête avec moi, cela m'ennuie vraiment. Vraiment. Peut-être que je m'attache trop à ça mais c'est pourquoi le Hall of Fame est une vraie récompense pour moi et je n'avais pas réalisé à quel point j'en avais besoin… Je me souviens de la fin, des moments difficiles mais pas ce que j'ai fait auparavant, dans les années 90. J'ai discuté récemment avec J-Kidd, sa carrière a été incroyable et il a consolidé tout ça avec les statistiques, le titre et tout simplement une carrière longue et stellaire. Il a pu mener sa carrière à son terme. Le fait de l'entendre parler de moi et savoir ce qu'il pensait de moi à l'époque, ou même maintenant, voilà, quelqu'un comme lui se souvient (…) J'ai fait quelques bonnes choses, j'ai joué les Jeux Olympiques, j'étais été dans l'élite pendant une période. Dans un sens, tout n'a pas été mauvais. »