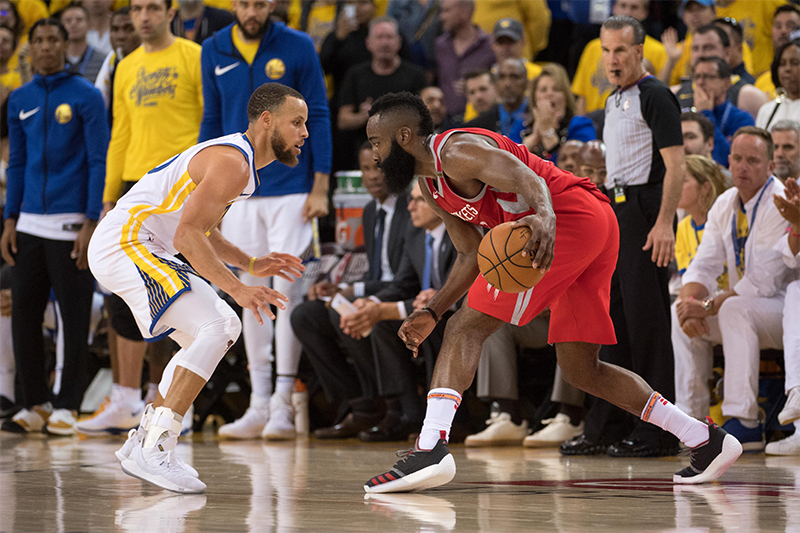 Eh oui, cela fait déjà neuf ans que tous les mardis, on publie notre « Course au MVP », et le principe reste le même : chaque semaine, on propose notre Top 5 des meilleurs joueurs NBA, en tenant compte des performances individuelles et collectives.
Les scoreurs ont le pris le pouvoir dans notre course au MVP. Seul Nikola Jokic fait encore de la résistance mais James Harden (57 points contre Memphis), Stephen Curry (48 points contre Dallas dimanche dernier), Kawhi Leonard ou encore Giannis Antetokounmpo émargent tous à plus de 26 points de moyenne.
Comme le leader des Rockets est toujours en feu, c'est une bonne occasion de revenir sur les séries offensives les plus impressionnantes de l'histoire de la NBA. Une belle mise en perspective.
Wilt Chamberlain seul sur sa planète
Dans l'histoire de la NBA, quand on parle de scoring, deux noms s'imposent dans les livres des records : Wilt Chamberlain et Michael Jordan. Mais le premier reste, presque vingt ans après sa mort, le patron. L'homme de tous les records.
Alors que James Harden vient de réussir son 17e match de suite à plus de 30 points, il n'est qu'à un quart du record de Wilt Chamberlain : 65 rencontres d'affilée ! Mais que le barbu se rassure, il n'est pas la seul à butter sur cette montagne.
Matchs consécutifs à plus de 10 points : LeBron James | 907 depuis le 6 janvier 2007, série en cours.
Matchs consécutifs à plus de 20 points : Wilt Chamberlain | 126 du 19 octobre 1961 au 19 janvier 1963.
Matchs consécutifs à plus de 25 points : Wilt Chamberlain | 106 entre 1961 et 1962 (dates précises inconnues).
Matchs consécutifs à plus de 30 points : Wilt Chamberlain | 65 du 4 novembre 1961 au 22 février 1962.
Matchs consécutifs à plus de 40 points : Wilt Chamberlain | 14 du 8 au 30 décembre 1961 et du 11 janvier au 1er février 1962.
Matchs consécutifs à plus de 50 points : Wilt Chamberlain | 7 du 16 au 29 décembre 1961.
La lecture est limpide : « The Stilt » est partout ! Et il semble impossible ne serait-ce que de s'approcher de lui. Et pour cause : sur trois saisons entre 1960 et 1963, soit 239 matches, voici la moyenne de Wilt Chamberlain : 44.6 points par match !
Un rythme qui retrouve le niveau du milieu des années 1980
Il faudra presque oublier ou gommer Chamberlain des livres pour mieux saisir la portée des performances de Stephen Curry ou de James Harden. Réussir 17 matches de suite à 30 points, c'est énorme, même si le MVP 2018 use et abuse du shoot primé (17 tentatives de moyenne en janvier !) et monopolise la balle. Sauf qu'il n'est pas le premier à avoir ce luxe parmi les grands scoreurs – Kobe Bryant, Michael Jordan, Allen Iverson l'ont eu également en leur temps.
L'avantage de « The Beard » & Compagnie, c'est que les règles actuelles, et la « liberté de mouvement » prônée par la NBA, ont fait gonfler le rythme des rencontres. Avec 99.5 possessions par match et 110.3 points de moyenne inscrits, on retrouve des chiffres qu'on n'avait plus connus depuis le milieu des années 1980, les équipes ayant ensuite ralenti le jeu.
Kobe Bryant s'est pourtant approché de deux records de Wilt Chamberlain (en plus de ses 81 pts bien sûr) avec neuf matchs de suite à 40 pts en 2003, puis quatre matches de suite à plus de 50 pts en 2007. Mais les deux fois, il était encore relativement loin des performances titanesques du géant des Sixers et des Lakers.
De plus, il faut rappeler le contexte qui entoure les chiffres du Rocket, qui ne va pas s'arranger avec la récente blessure de Clint Capela : James Harden maintient Houston dans le Top 8 de l'Ouest malgré les absences de nombreux de ses coéquipiers.
D'ailleurs, avec son 12e match à 50 points en carrière, il dépasse Allen Iverson et égale LeBron James en sixième position des joueurs les plus prolifiques. Seuls Rick Barry (14), Elgin Baylor (17), Kobe Bryant (25), Michael Jordan (31) et Wilt Chamberlain évidemment (118) font mieux que lui dans ce domaine.
Stephen Curry se cache derrière la barbe
Si James Harden prend toute la place médiatique et statistique depuis plusieurs semaines, Stephen Curry est dans l'ombre, mais ce n'est pas pour autant qu'il ne brille pas. En effet, le meneur des Warriors a collé 48 points aux Mavericks et il est devenu le troisième shooteur à 3-pts le plus prolifique de l'histoire de la NBA. À un rythme complètement effréné, qui devrait le conduire à la première place d'ici deux saisons.
En jetant un œil aux statistiques du MVP 2015 et 2016, on remarque qu'il est très proche de ses standards de la saison 2015-2016, où il avait illuminé la saison régulière. En 2016, il affichait 30.1 points à 50.4% de réussite et 45.4% à 3-pts. Cette saison, il est à 29.4 points, 48.9% et 45% à 3-pts en prenant le même nombre de shoots. Il réalise une saison de MVP donc (il avait été élu à l'unanimité en 2016), bien plus propre au tir que celle de James Harden et avec un meilleur bilan collectif. Malgré tout, il souffre de la puissance de James Harden, comme tous les autres candidats, et de la richesse de son propre effectif.
Pour finir, on ne rappellera jamais assez que si les scoreurs ont pris le pouvoir pour le titre de MVP – quatre des cinq derniers lauréats étaient aussi meilleurs marqueurs de la saison – ils ne sont jamais titrés en juin suivant depuis presque vingt ans. En effet, le dernier meilleur marqueur de la ligue sacré la même année fut Shaquille O'Neal en 2000… Autre temps, autres moeurs.
1 – Giannis Antetokounmpo
Bilan : Bucks – 30v-12d – 2e à l'Est
Stats : 33.5 min, 26.7 pts, 12.6 rbds, 5.9 pds, 1.3 int, 1.5 ct, 4.1 bps, 57.9% tirs, 17.2% 3-pts, 70.1% LF
2 – James Harden
Bilan : Rockets – 25v-18d – 4e à l'Ouest
Stats : 37.2 min, 34.8 pts, 6.3 rbds, 8.6 pds, 2.1 int, 0.6 ct, 5.6 bps, 43.7% tirs, 37.9% 3-pts, 86.3% LF
3 – Kawhi Leonard
Bilan : Raptors – 33v-12d – 1er à l'Est
Stats : 34.9 min, 27.5 pts, 8 rbds, 3.2 pds, 1.9 int, 0.5 ct, 2.1 bps, 50.3% tirs, 37.3% 3-pts, 84.6% LF
4 – Stephen Curry
Bilan : Warriors – 29v-14d – 2e à l'Ouest
Stats : 34.6 min, 29.7 pts, 5.6 pds, 5.2 rbds, 1.3 int, 0.4 ct, 3 bps, 48.9% tirs, 45% 3-pts, 91.7% LF
5 – Nikola Jokic
Bilan : Nuggets – 29v-13d – 1er à l'Ouest
Stats : 31.4 min, 19.7 pts, 10.2 rbds, 7.5 pds, 1.4 int, 0.7 ct, 3.2 bps, 50.6% tirs, 32.5% 3-pts, 83.7% LF
Mentions : Paul George, Kevin Durant, Joel Embiid, LeBron James, Damian Lillard, Anthony Davis, Russell Westbrook…